tv's night of nights...
in australia that's the logies (according to richard wilkins) and that's where i was last sunday. well i wasn't actually inside... but i was doing funny logies things all day for work.
you see my day job occasionally requires me to follow actors around to create videos for the interweb.
work takes me to all sorts of places and i meet all sorts of people with all sorts of quirks...
like one time i was on a shoot with
tara moss
(international model, crime writer and unicef ambassador... as you can tell by the pic)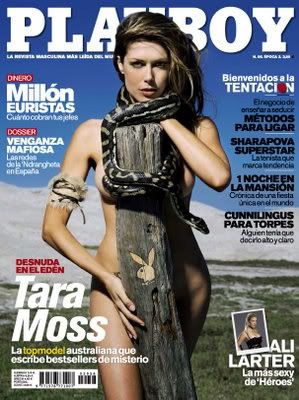 who was hosting this reality show pilot we were making... anyways, instead of going over the script tara spent most of the time telling me about martial arts and motorbikes. and i learnt that she prefers to be called T-BONE, rides a bike and is into kick boxing... and she didn't hesitate to show me her moves (wicked). so i'm on set with this like 7-foot-tall glamazon doing round house kicks above my head. i repeat... wicked.
back to the logies...
i spent sunday afternoon at
caitlin stasey's
house (she plays 'rachel' on
neighbours
- the school girl who is on with her teacher) filming her and
matt werkmeister
(who plays rachel's geeky kid-brother 'zeke') getting ready. it was caitlin's 18th birthday party on the saturday so matt had stayed over cos they're besties in real life. cute hey?
the story behind the shoot was that it was matt's first logies.... so i was trying to capture all the nerves and excitement of the experience.
i rocked up at 2pm and met caitlin's mum, dad, her boyfriend (a very sweet, skinny, pimply emo dude - i was expecting a jock so was pleasantly surprised) as well as matt's mum and a million other siblings and family members. wow... it was like we were getting ready for the school formal only shinier.
while i'd like to be able to tell you that the neighbours kids are obnoxious little turds (for the sake of a funny perez hilton-style blog) i can't. matt and caitlin are lovely, polite, down-to-earth teens. my best footage is of matt's mum repeatedly brushing white cat fur off the bum of his black suit pants with matt getting embarrassed and then narky cos she wouldn't stop. i was waiting for the hanky to come out so she could spit on it and wipe some vegemite off his face.
matt showed me how he did his hair with four different (but essential products) and caitlin didn't mind me filming the argument between her and her mum about who had put the camera down last... and once the camera was found... the mums and dads made them pose together so they could get some photos to show the grandparents.
FYI... the actors aren't allowed to bring plus ones to the logies so the getting ready part is a big deal for their folks who can only wave at their kids once they hit the red carpet.
oh yeah... this is matt and caitlin in case you're wondering: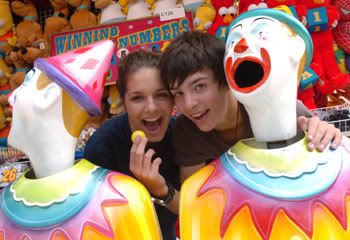 anyways... once everyone was ready and free-of-cat-hair i jumped in the back seat of the family range rover next to rachel and zeke and we headed off to crown.
before the big extravaganza we were going to the
network ten pre-logies party
at 'tonic'. i'd arranged for matt to interview the other neighbours cast members as well as any other famous people who'd be prepared to talk about neighbours. like
nat bass
(who used to be on neighbours) and who looked much nicer in real life than she did on
SYTYCD
... what
was
with her eyes?
so we get to tonic and matt and caitlin are awesome and help me lug my camera gear and tripod inside. i let them do a bit of mingling then i grab matt so we can start harassing the famous people.
matt, who had never done anything like this before, was cute and nervous which worked well because it meant the famous people were nice and generous when talking to him. he asked some stupid questions... and managed to make
imogen bailey
look like a "complete bimbo" (her words not mine)...
(something about how hard she was intending to party later on)... but all in all he did a good job... and he handled the numerous, annoying dad-like comments about the fact that he was too young to drink (easy on the lemonade there kiddo) with maturity and good humour.
so after about half an hour's worth of interviewing... and many failed attempts at luring the neighbours new recruit
erin mcnaught
(you may know her as
miss australia
) away from the clutches of my company's CEO... it was time to face the red carpet.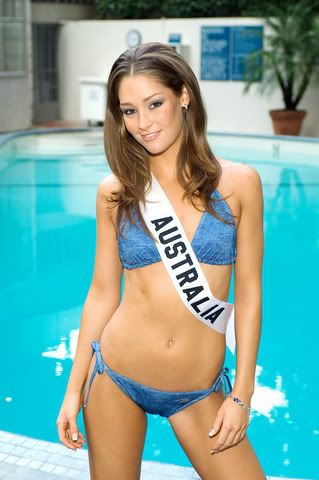 the neighbours gang walked from tonic to crown (no limos this time as ten was doing this whole 'glamorously green' thing... lame considering it was a 2-minute walk) and i filmed them strutting their stuff... yelling out to matt that i'd make a copy of the footage for his mum and dad (who were terribly proud of their boy and disappointed they couldn't be there).
then when they got to the star-studded venue i waved goodbye like a proud parent, got in a taxi and went home to watch
gladiators
(which is the BEST show on tv)...
i heart AMAZON.
p.s. tara moss would make a good gladiator.